Pérdida auditiva y exposición laboral a ruido en minería: una revisión sistemática
Palabras clave:
Minería; Ruido en el Ambiente de Trabajo; Pérdida Auditiva Ocupacional
Resumen
Objetivo: Revisar y analizar la pérdida auditiva derivada de la exposición laboral a ruido en los trabajadores del sector de la minería.
Método: Análisis crítico de los trabajos recuperados mediante revisión sistemática en MEDLINE (PubMed), EMBASE, Cochrane Library, Scopus, Web of Science, LILACS, MEDES y TESEO hasta noviembre de 2021. La ecuación de búsqueda se formuló́ mediante los descriptores «Mining», «Occupational noise» y «Occupational Hearing Loss», utilizando también los DeCs, Entry Terms, términos del Diccionario Embase relacionados y los filtros: «2006» y «English», «Spanish», «French» y «Portuguese». La calidad de los artículos se evaluó mediante el cuestionario STROBE y el nivel de evidencia y grado de recomendación mediante los criterios SIGN.
Resultados: De las 703 referencias recuperadas (todas digitalmente) tras aplicar los criterios de inclusión y exclusión, se seleccionaron 13 artículos. La evaluación mediante STROBE dio una media de 14.90 y según los criterios SIGN se obtuvo un grado de evidencia 3 y recomendación D. La obsolescencia de las publicaciones fue moderada (semiperiodo de Burton-Kebler: 6.00; índice de Price: 23,08%).
Conclusiones: Los trabajos revisados presentaron un índice de obsolescencia adecuado sin embargo, su grado de evidencia y recomendación impidieron asegurar por completo la validez y fiabilidad de las observaciones realizadas. Los resultados mostraron asociación entre la exposición laboral a ruido y la périda auditiva entre los trabajadores del sector minero.
Citas
Who.int. 2022. Deafness and hearing loss. [online] Disponible en: https://www.who.int/news-room/fact-sheets/detail/deafness-and-hearing-loss [Acceso 3 Febrero 2022].
Hernández A, González B. Alteraciones auditivas en trabajadores expuestos al ruido industrial. Med Seg Trabajo 2007; 50(208):09-19.
Zhou J, Shi Z, Zhou L, et alOccupational noise-induced hearing loss in China: a systematic review and meta-analysisBMJ Open 2020;10:e039576. doi: 10.1136/bmjopen-2020-039576.
Moroe N, Khoza-Shangase K, Kanji A, Ntlhakana L. The management of occupational noise–induced hearing loss in the mining sector in Africa: A systematic review – 1994 to 2016. Noise & Vibration Worldwide. 2018;49(5):181-190.
Convenio 176 sobre Seguridad y Salud en las minas, 1995, núm. 176, Organización Internacional del Trabajo.
Directiva 2003/10/CE del Parlamento Europeo y del Consejo, de 6 de febrero de 2003, sobre las disposiciones mínimas de seguridad y de salud relativas a la exposición de los trabajadores a los riesgos derivados de los agentes físicos (ruido) (decimoséptima Directiva específica con arreglo al apartado 1 del artículo 16 de la Directiva 89/391/CEE). Diario Oficial n° L 042 de 15/02/2003 p. 0038 – 0044.
Wolf J, Prüss-Ustün A, Ivanov I, Mudgal S, Corvalán C, Bos R et al. Preventing disease through a healthier and safer workplace. Geneva: World Health Organization; 2018. Licence: CC BY-NC-SA 3.0 IGO.
Masterson E, Bushnell P, Themann C, Morata T. Hearing Impairment Among Noise-Exposed Workers — United States, 2003–2012. MMWR Morbidity and Mortality Weekly Report. 2016;65(15):389-394.
Real Decreto 863/1985, de 2 de abril, por el que se aprueba el Reglamento General de Normas Básicas de Seguridad Minera. (Boletín Oficial del Estado, número 140, de 12 de junio de 1985).
OSHA. Occupational noise exposure, 1910.95(b). 2022 [Citado el 23 de Febrero de 2022]. Disponible en: https://www.osha.gov/laws-regs/regulations/standardnumber/1910/1910.95
Real Decreto 286/2006, de 10 de marzo, sobre la protección de la salud y la seguridad de los trabajadores contra los riesgos relacionados con la exposición al ruido. (Boletín Oficial del Estado, número 60, de 11 de marzo de 2006).
Kirchner D, Evenson E, Dobie R, Rabinowitz P, Crawford J, Kopke R et al. Occupational Noise-Induced Hearing Loss. Journal of Occupational & Environmental Medicine. 2012;54(1):106-108.
MJ, Moher D, Bossuyt PM, Boutron I, Hoffmann TC, Mulrow CD, et al. PRISMA 2020 explanation and elaboration: updated guidance and exemplars for reporting systematic reviews. BMJ 2021;372:n160. doi: 10.1136/bmj.n160.
MJ, McKenzie JE, Bossuyt PM, Boutron I, Hoffmann TC, Mulrow CD, et al. The PRISMA 2020 statement: an updated guideline for reporting systematic reviews. BMJ 2021;372:n71. doi: 10.1136/bmj.n71-
Embase [Internet]. Embase.com. 2022 [Citado el 20 Febrero 2022]. Disponible en: https://www.embase.com/#emtreeSearch/default.
Wanden-Berghe C, Sanz-Valero J. Systematic reviews in nutrition: standardized methodology. Br J Nutr. 2012;107:S3-7. doi:10.1017/S0007114512001432.
Von Elm E, Altman DG, Egger M, Pocock SJ, Gøtzsche PC, Vandenbroucke JP, et al. The Strengthening the Reporting of Observational Studies in Epidemiology (STROBE) statement: guidelines for reporting observational studies. Gac Sanit.2008;22:144-50. Doi:10.1157/13119325).
Harbour R, Miller J. A new system for grading recommendations in evidence based guidelines. BMJ. 2001;323:334-36. Doi:10.1136/bmj.323.7308.334.
Ley 14/2007, de 3 de julio, de Investigación biomédica. Boletín Oficial del Estado 159, de 4 de julio de 2007. https://www.boe.es/eli/es/l/2007/07/03/14.
Brigic A, Berbic N, Ahmetovic N, Kudumovic D. Analysis of noise affect in production processes at open pit mines to level of hearing impairment of employees. HealthMED. 2012;6(4):1494-501.
Chadambuka A, Mususa F, Muteti S. Prevalence of noise induced hearing loss among employees at a mining industry in Zimbabwe. African Health Sciences. 2013;13(4):899-906.
Grobler LM, Swanepoel DW, Strauss S, Becker P, Eloff Z. Occupational noise and age: A longitudinal study of hearing sensitivity as a function of noise exposure and age in South African gold mine workers. S Afr J Commun Disord. 2020;67(2):687.
Gyamfi CKR, Amankwaa I, Owusu Sekyere F, Boateng D. Noise Exposure and Hearing Capabilities of Quarry Workers in Ghana: A Cross-Sectional Study. J Environ Public Health. 2016;2016:7054276.
Kerketta S, Gartia R, Bagh S. Assessment of noise induced hearing loss of the mine workers of a chromite mines at Sukinda, Orissa, India. Noise and Vibration Worldwide. 2016;43(2):28-36.
Kerketta S, Gartia R, Bagh S. Hearing threshold, loss, noise levels and worker's profiles of an open cast chromite mines in Odisha, India. Malaysian Journal of Medical Sciences. 2012;19(4):64-72.
Liu J, Xu M, Ding L, Zhang H, Pan L, Liu Q, et al. Prevalence of hypertension and noise-induced hearing loss in Chinese coal miners. Journal of Thoracic Disease. 2016;8(3):422-9.
Musiba Z. The prevalence of noise-induced hearing loss among Tanzanian miners. Occup Med (Lond). 2015;65(5):386-90.
Nikulin AN, Dolzhikov IS, Stepanova LV, Golod VA. Assessment of noise impact on coal mine workers including way to/from workplace. Naukovyi Visnyk Natsionalnoho Hirnychoho Universytetu. 2021;(2):151-5.
Ntlhakana L, Nelson G, Khoza-Shangase K, Maposa I. Predicting standard threshold shifts for occupational hearing loss among miners at a large-scale platinum mine in South Africa. Journal of the Southern African Institute of Mining and Metallurgy. 2021;121(8):397-404.
Onder M, Onder S, Mutlu A. Determination of noise induced hearing loss in mining: an application of hierarchical loglinear modelling. Environmental Monitoring and Assessment. 2012;184(4):2443-51.
Tripathy DP, Rao DS. Assessment of noise induced hearing loss (NIHL) of mine workers in a bauxite mine using fuzzy logic. En San Francisco Marriott Marquis HotelSan Francisco; United States; 2015. Disponible en: https://www.scopus.com/inward/record.uri?eid=2-s2.0-84947584812&partnerID=40&md5=610c689c28fc73db19f9f7a867017443.
Yılmaz AI. Determination of mining-induced hearing loss with otoacoustic emission method at Tki-Eli lignite field. Journal of Mining Science. 2012;48(2):376-81.
Delgado-Rodríguez M, Sillero-Arenas M. Systematic review and meta-analysis. Medicina Intensiva [Internet]. 2018 [citado el 23 de Febrero de 2022];42(7):444-453. Disponible en: https://reader.elsevier.com/reader/sd/pii/S0210569117302942?token=19D168E97E6B52BC9AF1873C4D17BB90BFEA840AEC25597E80B122E941987C192C243A9D0C78C8FC455664116E0F16A4&originRegion=eu-west-1&originCreation=20220223175406
Reichl, C,; Schatz, M.;. World Mining Data 2019. Minerals Production, Viena; 2019; 34: 26. Disponible en: https://www.world-mining-data.info/wmd/downloads/PDF/WMD2019.pdf.
LILACS B. Base de datos LILACS : [Internet]. Metodologia.lilacs.bvsalud.org. 2022 [citado el 3 Febrero 2022]. Disponible en: http://metodologia.lilacs.bvsalud.org/php/level.php?lang=es&component=19&item=3.
Wu M, Guffey S, Takacs B. Comparison of noise reduction of earplugs between fit test and coal mine work and observed variability of real-time noise reduction in coal mine work. Work-a Journal of Prevention Assesment & Rehabilitation. 2016;55(3):531-8.
Camargo H, Peterson S, Kim B, Alcorn L. Development and field evaluation of noise controls for jumbo drills. En 2019. Disponible en: https://www.scopus.com/inward/record.uri?eid=2-s2.085084164162&partnerID=40&md5=a3194f6eb2933b2529916f0a99e01c2b.
Harbour R, Miller J. A new system for grading recommendations in evidence based guidelines. BMJ. 2001;323:334-36. doi:10.1136/bmj.323.7308.334.
Strauss S, Swanepoel DW, Becker P, Eloff Z, Hall JW III. Noise and age-related hearing loss: A study of 40 123 gold miners in South Africa. International Journal of Audiology. Marzo de 2014;53:S66-75.
Liebenberg A, Brichta AM, Nie VM, Ahmadi S, James CL. Hearing threshold levels of Australian coal mine workers: a retrospective cross-sectional study of 64196 audiograms. International Journal of Audiology. Octubre de 2021;60(10):808-19.
De Irala Estévez J, Martínez-González MA, Seguí-Gómez M. Epidemiología aplicada. 1st ed. Barcelona: Ariel Ciencias Médicas; 2004.
Úlehlová, L; Brani, M.; Janisch, R. (1989). Acoustic Trauma in Mineworkers Revealed by Temporal Bone Necropsy. Acta Oto-Laryngologica, 108(sup470), 97–108. doi:10.3109/00016488909138362.
McCombe A, Binnington J. Hearing loss in Grand Prix motorcyclists: occupational hazard or sports injury?. British Journal of Sports Medicine. 1994;28(1):35-37.
Mostaghaci M, Mirmohammadi S, Mehrparvar A, Bahaloo M, Mollasadeghi A, Davari M. Effect of Workplace Noise on Hearing Ability in Tile and Ceramic Industry Workers in Iran: A 2-Year Follow-Up Study. The Scientific World Journal. 2013;2013:1-7.
Di Stadio A, Dipietro L, Ricci G, Della Volpe A, Minni A, Greco A et al. Hearing Loss, Tinnitus, Hyperacusis, and Diplacusis in Professional Musicians: A Systematic Review. International Journal of Environmental Research and Public Health. 2018;15(10):2120.
Hagger MS. What makes a 'good' review article? Some reflections and recom-mendations. Health Psychol Rev. 2012;6:141-46. doi:10.1080/17437199.2012.70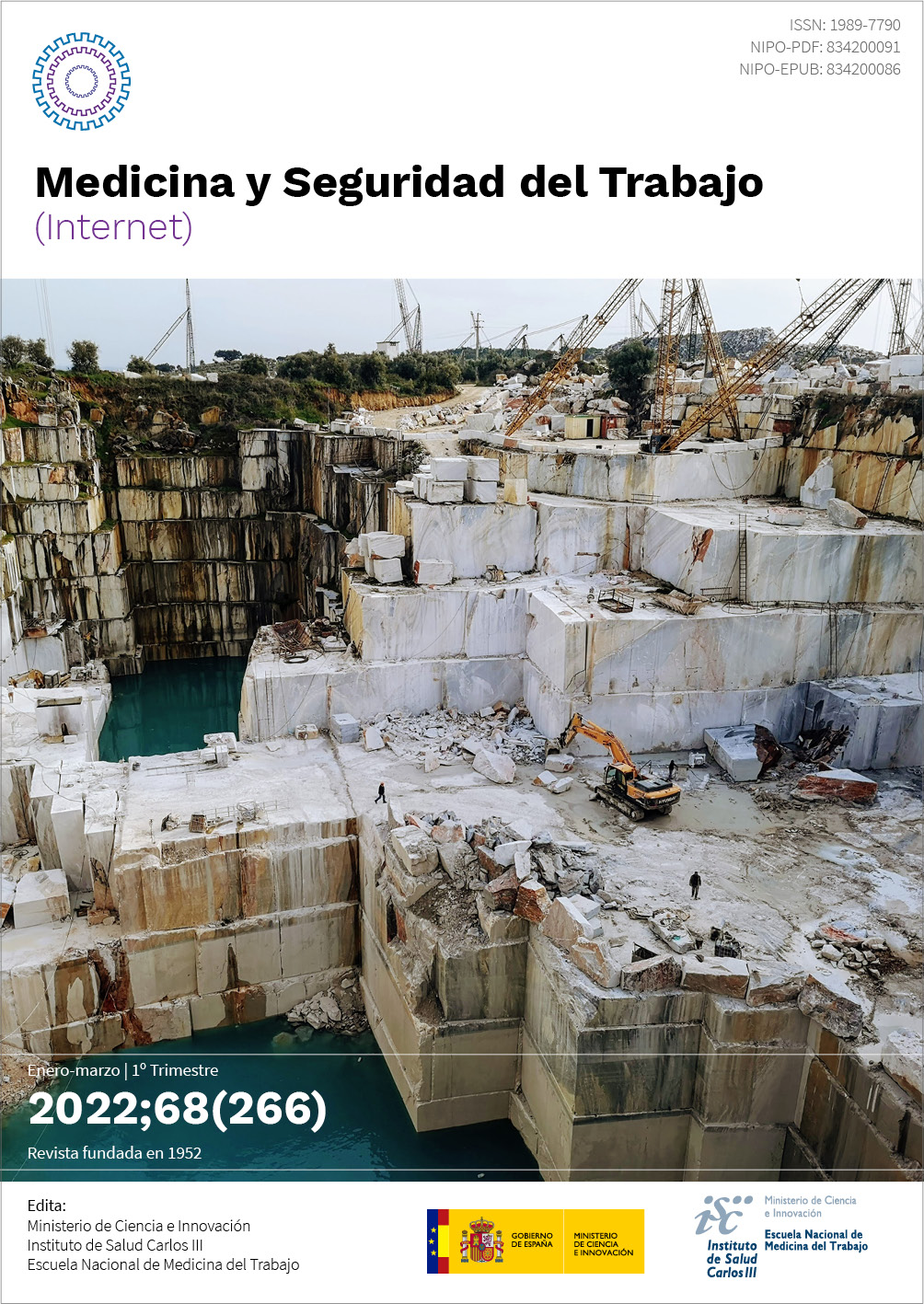 Cómo citar
1.
Casal-Pardo B, Jasso-Gascón NE, Preciados-Sola R, Reinoso-García K. Pérdida auditiva y exposición laboral a ruido en minería: una revisión sistemática. Med Segur Trab [Internet]. 30 de marzo de 2022 [citado 20 de marzo de 2023];68(266):36-55. Disponible en: //revista.isciii.es/index.php/MST/article/view/1237